The official Kenilworth Flag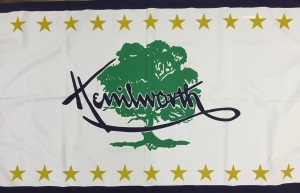 In the summer of 1987, Matthew Duffy was one of twenty Boy Scouts selected from Illinois to attend the World Jamboree to be held in Australia in 1989. As was the custom at Jamborees, the boys were asked to bring materials so that they could build something that represented their home area. The boys from Illinois Troop 1824 decided to build a replica of the Willis (then Sears) Tower.
It was also decided that each boy should bring a flag from his home city that would fly on the top of their tower. At the time, Kenilworth did not have an official flag. Searching for an Eagle Scout project, Matthew decided to design an official flag for Kenilworth and sell them to raise money for Troop 13.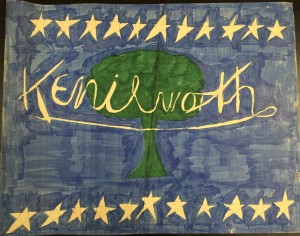 Matthew's original design included : twenty-two stars for the Kenilworth service members lost in various wars, the George Washington Elm tree, the Kenilworth village script logo, and blue stripes bordering the top and bottom to represent the sky and Lake Michigan. The colors blue, green, and white were chose as they are also the colors of Joseph Sears School and New Trier High School.

Matthew's Eagle Scout project required the Village Board's approval, which he easily obtained. Working with Navy veteran and long time Kenilworth resident, Harry Kelso, Matthew reviewed his design and colored the stars gold. Matthew also obtained permission to use the Kenilworth script logo from the original designers great-grandson.

The design complete, Matthew contracted with a local sign maker to create 100 flags. The flag was first flown over the 1988 Memorial Day weekend. He sold all 100 flags and shortly after the Village Board declared the flag to be official. Matthew dedicated the flag to his grandfather, Kenneth E. Duffy, who lost his life during World War II.

In 2003, the Village Board again voted without objection to declare the flag permanent.

In 2014, the Kenilworth eighth grade Girl Scouts were seeking a fundraising project. They decided to reissue the flag around Memorial Day, 2015. They used the raised funds to purchase a new flagpole for the Village.

Posted in: