Home
»
Become a Historical Society Member
Become a Historical Society Member
Help the Kenilworth Historical Society preserve the history of our community. The Historical Society offers five levels of membership. All members receive discounts on book purchases and duplication services as well as an invitation to the Society's biennial dinner. Lifetime members' names' are listed on plaques in the lobby of the Stuart Memorial Building. Call or email us to receive a membership brochure.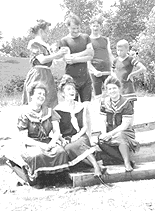 Annual Memberships
Regular/Family: $ 35
Sustaining: $ 100
Contributor: $ 200
Lifetime Memberships
Life Member: $ 1000
Life Benefactor: $ 5000
Join the KHS
Family: Volunteer!
Volunteers at KHS spend various amounts of time assisting the KHS staff and Board of Directors in a number of ways. Volunteers have assisted staff in the past with archival processing, exhibit mounting, and assisting with special events. If you are interested in volunteering at KHS, contact Curator Melinda Kwedar via email or by calling the Historical Society.