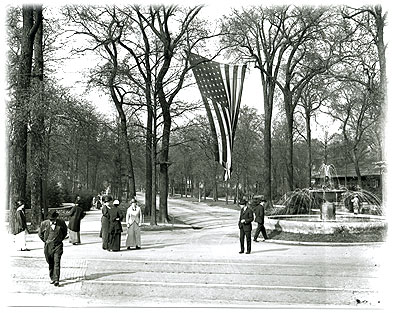 In addition to presenting Kenilworth's history through exhibits and programs, the Historical Society preserves the community history by maintaining two and three-dimensional objects, archives and general reference files. The Society has over 1,200 three-dimensional objects and nine linear feet of photographs that curators utilize to interpret the past. The General Reference files provide information about community groups such as the Garden Clubs, Girl and Boy Scouts, local churches, architectural data and individual homes, including some National Register and Frank Lloyd Wright homes. Records from the Kenilworth Company, the Village, the Joseph Sears School, and the Joseph Sears Family constitute the majority of the Society's archival holdings. The Library contains a variety of holdings pertaining to Kenilworth, Chicago, Illinois, Gardens, and Historic Preservation.
The Kenilworth Historical Society is open to researchers and visitors on Mondays from 9:00 a.m. to 4:30 p.m. and Thursdays
from 9:00 a.m. to noon.
Connect with Kenilworth History
To access the Library, Archives, General Reference Files or Photographic Collection visit, email, or call during open hours, or schedule an appointment with the curator. On-site research, loan and duplication requests are reviewed and supervised by the curator.
If you are interested in donating any items or records to the Historical Society, contact us. Please remember, object provenance is essential in interpreting Kenilworth history, so include as much information with your donation as possible.