Found in Collection blog
Posted on

khs

on

February 23, 2017
Follow our new weekly blo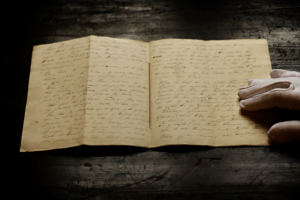 g! Found in Collection highlights the interesting stories behind some unique artifacts in the historical societies holdings.
The Kenilworth Historical Society is dedicated to preserving the materials that document the people, events, and organizations of the small North Shore village. During my time as curator at the Society I've found a variety of fascinating and peculiar artifacts that tell the story of Kenilworth. We've recently begun an inventory of the entire collection, which has uncovered a plethora of interesting artifacts. I hope you find these museum relics as intriguing as I do.
I was inspired to write this blog one afternoon as I was combing though a box I found in our collection room. In a single box I found a prescription bottle of prohibition era whiskey, a death mask, a piece of the White House and much more. It's no secret that the vast majority of museums' collections never see the light of day. For example, The Field Museum in Chicago only has 1% of it's collection on display at any given time. Museums just don't have the gallery area (or budget) to display all the wonderful things we have. This project will shed light on the hidden treasures in our collection while exploring the captivating history behind them.
https://foundincollection.wordpress.com