How Can I Help You: Business and Commerce in Kenilworth
Posted on

khs

on

August 14, 2017
Business and commerce are not usually associated with Kenilworth even though the village was founded as a business venture. In 1889 Joseph Sears, following the purchase of 208.6 acres for $135,000, founded the Kenilworth Company. A brochure from 1890 advertised Kenilworth as "The Model Suburban Home." The promotion of Kenilworth's healthy environment and good schools influenced people to buy lots and build their homes. The Kenilworth Company even provided transportation from Chicago for potential buyers and hosted at least one picnic luncheon on the lake shore.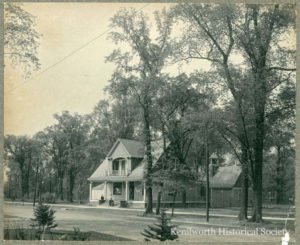 Back in 1892, with only fiffteen residences plus a farm, a store was founded to provide staples such as groceries, fruits, vegetables, cigars, drugs, sundries, candies, fishing tackle, garden tools and a soda fountain. The store was located just south of the train station. In 1899 it was moved north, to Kenilworth and Richmond Avenues. By 1914, the store had three divisions offering a meat market, drug store and a tailor. Vegetables were sold in a separate building. Other services included telegraph and post office supplies. In 1932, the store was moved to 505 Park Drive.
In 1920, the property west of the railroad had been annexed to the village in order to control the development of the street (West Railroad Avenue), now known as Green Bay Road. In 1929, the Kenilworth Architectural Commission recommended an English style for business fronting Green Bay Road. That has generally been followed as commercial buildings were established.
For 68 years Blann Pharmacy stood as a Kenilworth icon with its beloved soda fountain and small-town charm. Ralph and Viola Blann had met in pharmacy school. Their first drugstore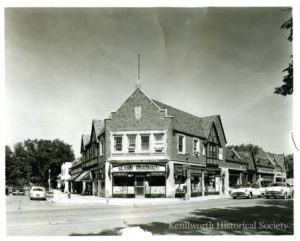 was onPark Drive. In 1926 they moved into a new building that had been constructed at Green Bay Road and Park Drive. A few years later the couple divorced and Viola became the sole owner. For decades the social center of Blann Pharmacy was the soda fountain. A busy staff served sandwiches and homemade pie. The morning crowd who ate sweet rolls and drank coffee were known as "Mrs. Blann's Breakfast Club." For lunch everything from burgers to tuna fish sandwiches were served with a cherry coke or Green River soda.
Many of us have fond memories of stores and businesses in Kenilworth, especially Blann's Drugstore. In preparing for this exhibit we recorded a long discussion with Bob Stensby, the last owner of Blann's and we have many good stories to share with you. The new exhibit at the Historical Society contains a wealth of information pertaining to businesses that have operated in Kenilworth.
To learn more about the many stores, shops and offices in Kenilworth's business district look for window clings posted in storefront windows on Green Bay Road and Park Drive. Each window cling, developed by the Kenilworth Historical Society, contains historic photographs and information about the various business located in that location.
The following businesses have agreed to become sponsors for the exhibit by providing fnancial support. Bronze Sponsors; Kenilworth Cleaners, Jon-Paul Champine Psy.D, StrengthTime Kenilworth and Dr. David Duda. Charles Schwab Company is a Silver Sponsor. We thank the Kenilworth United Fund for their generous contribution in support of the exhibit.